Pornstar Info
Videos with Ryan Ryder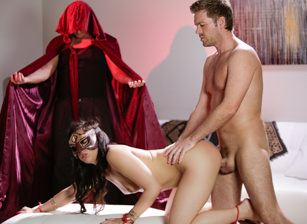 Description :
Initiate Ryan Ryder wants to join a secret society but first must submit to a record of faith like every member of the quorum. As the cloaked quorum leader explains, the knowledge Ryan will acquire from the society must be protected by a seal of honor, ensuring the society has nothing to fear from the initiate. Ryan can refuse but he will be banned from the society and its secrets. Should he wish to proceed, he must have sex with the bound and naked woman Whitney Wright. The sex act will be witnessed and recorded.

Ryan begs for another option, he's married and does not want to betray his wife. The quorum leader laughs at his request. That's why this specific task was chosen. Ryan concedes to the initiation and begins by anointing Whitney with the oil. The masked woman kneels with her ass in the air, writhing on the ottoman from the cool lubricant pouring onto her back. The quorum leader rings a bell signaling it's time to begin. Ryan unzips his pants and penetrates her pussy from behind.

The quorum members ritually move the ottoman into the pentagram marked on the floor. Whitney begs for more of Ryan's cock. Ryan plunges into her pussy, but this time he's taken off his clothes. When they grant him permission to untie her, she sits up to suck his dick. Then she climbs onto his lap and rides his dick till she cums. He fucks her sideways, very deeply, as she bucks against each thrust and plays with her pierced clit. He stands up to penetrate her to the core, till he spills his cum all over her face as corroborating evidence.