Pornstar Info
Videos with Bambino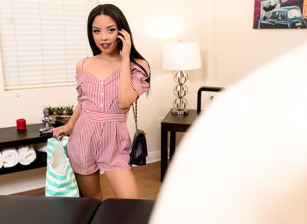 Description :
Bambino is preparing for his next client of the day when a beautiful, rich teen, Maya Bijou, steps in. Although she's busy on her phone, as soon as her eyes fall on Bambino, she's intrigued, giving him a flirty smile.It's clear she's a woman who always gets what she wants, and she wants HIM.Bambino leads her into the private massage room, trying to be as professional as possible, although Maya makes his job... hard. She first invites him to help her remove her dress, which he does without hesitation. This gives Maya the chance to entice Bambino as he slowly undoes his zipper to free her from her clothes. Then, once she's naked and stretched out on the massage table, she invites him to rub oil over every inch of her body -- starting with her feet.As Bambino works out the tension, Maya shows her appreciation by moaning and casting him sultry glances. Once she's on her back, she grins playfully at him as he works his way up to her breasts. She moans that she feels so good... and, well, Bambino is REALLY cute, so she's down to bang if he is. Without hesitation, he readily dives in, not wanting to disappoint her!Maya starts by going down on Bambino, getting him nice and wet for her. Once she's satisfied, she lays back with her legs spread wide, opening herself to him. As Bambino slides his cock inside her pussy, Maya revels in getting exactly what she wanted all along.
Categories :
Brunette
,
Hardcore
,
Masturbation
,
Natural Tits
,
Teen
,
Tattoos
,
Petite
,
Latina
,
Facial
,
Blowjob
,
Deepthroat
,
Big Dick
,
Ass
,
Massage
,
POV
,
Foot Fetish
,
Oil
,
hd porn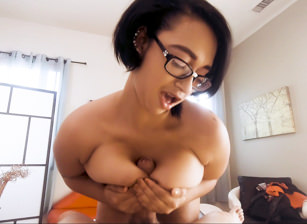 Description :
Bambino is folding towels when his client, Emori Pleezer, a cute, nerdy girl, enters. She walks straight to the counter and drops her heavy backpack with a smile. Bambino is surprised by the weight of the backpack -- does she have rocks in it? Without missing a beat, Emori insists that, no, it's her school books because you'll never know when you need them! It's unfortunate, though, since carrying the books all the time hurts her back.As Bambino's gaze drops to Emori's large breasts, it's clear to him that the books may not be the cause of her back problems...Bambino leads Emori into the private room and begins the sensual massage. Emori is relaxed and confident, though when Bambino insists that it may be her hefty breasts causing her aches and pains, she's skeptical. Surely they can't be the cause! Yet, as Bambino massages her all over, helping her discomfort melt away, she realizes that perhaps it's more likely than she thinks!Now aroused, Emori admits that she wants to experience more of the world outside of her books. In fact, she wants to start by having sex with Bambino. There's only so much she can learn through reading...Bambino is on board as Emori hungrily goes down on his cock. She slides his cock between her breasts a few times, getting them both good and ready for the main event. She then climbs on top of him and eagerly sinks his cock into her pussy. Once Emori finds her rhythm, she quickly discovers that the real thing is much more fun than anything she's ever read about.
Categories :
Brunette
,
Big Tits
,
Hardcore
,
Natural Tits
,
College
,
Tattoos
,
Blowjob
,
Deepthroat
,
Titty Fuck
,
Ass
,
Massage
,
Cum On Tits
,
POV
,
hd porn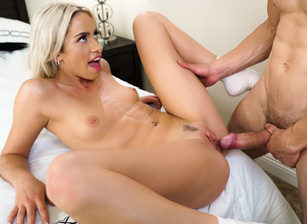 Description :
Khloe Kapri is lying on her bed, looking at her phone. Hearing a knock and inviting the visitor in, Bambino, her step-brother enters. He just wanted to see how she's settling in back home after her semester at college. Inviting him to take a seat next to her on the bed, she tells him that she's happy to be home, but she's still super stressed out from her exams. Bambino is sympathetic. He offers to give her a shoulder rub. But he's her brother, wouldn't that be totally weird? Well, step-brother, he corrects her, but she knows he always tries to watch out for her and he can see she's stressed and wants to help.As he rubs her shoulders, Khloe begins to relax a lot more, telling Bambino that his technique is amazing. She never knew he had such strong hands. Bambino takes the compliment, thanking her. Since it's getting really hot in the room, Khloe suggests that she'll take her shirt off. Bambino asks if that wouldn't feel a little strange for her. Even though they aren't actually related, it's nothing he hasn't seen before, Khloe laughs, and peels off her top.Bambino resumes massaging her. Her eyes closed, Khloe comments that Bambino has grown up so much since they last saw each other. Swallowing hard, he looks over her shoulder at her perky breasts. 'You too,' he stammers. She asks him if he has a girlfriend. He doesn't, does she have a boyfriend? No, she doesn't. In fact, she's still a virgin!He is shocked. How could someone like her be a virgin?! She's never even had a friend with benefits or anything like that? No, she answers, the opportunity hasn't really presented itself. And since she's so inexperienced, she probably wouldn't know what to do if it did. She's never even kissed a guy before. Bambino is shocked all over again. Never?! Well, he'll just have to teach her, if she wants. After a few moments of hesitation, she agrees since he's her big brother and is just watching out for her.They kiss, with Bambino guiding her through the kiss, though it gradually becomes more passionate and deep, with tongue. It's getting a little too intense and they pull back from each other, both kind of shocked, but clearly turned on. They both shake their heads at the same time. Khloe comments on how nice the kiss was and asks her step-bro how she did. He responds very positively and encouragingly. Now that she knows the basics, he tells her that maybe he should show her something else. Maybe he could touch her tits? Kissing is one thing, but that's just too weird, she says. Well, he says, he was just touching her shoulder before, isn't it the same thing, just touching a different part of her skin? Well, if he thinks it'll help help her get more experience, ok, she relents. Bambino begins to feel her tits. That feels really good, she comments.As Bambino is feeling her tits, Khloe, increasingly into it and less inhibited, asks Bambino if he could touch her, y'know... down there. Just so she would know what it feels like. It's just another piece of skin, isn't it? It's the same thing as touching her tits. And since they're not REALLY related, how bad could it be... He obliges and fingers her pussy, commenting on how tight and wet she is as she moans with pleasure. Bambino then pulls back and encourages Khloe to get on her hands and knees to teach her how to do a blowjob. Khloe, aroused from everything, doesn't hesitate. She's a quick learner and is fueled by his praise. When it finally comes time to take Bambino's cock, she's eager to learn how to ride that, too!
Categories :
Blonde
,
Hardcore
,
Natural Tits
,
Fingering
,
College
,
Petite
,
Blowjob
,
Deepthroat
,
Big Dick
,
Creampie
,
Massage
,
shaved pussy
,
hd porn
,
kissing
,
rimming
,
pussy eating