Pornstar Info
Videos with Khloe Kapri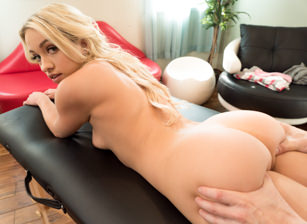 Description :
Khloe Kapri enters a massage parlor, looking bright and excited as she approaches the masseur, Ryan McLane. After brief introductions, Khloe reveals that while she's there to enjoy a massage, she's a bit self-conscious about her butt, so she'd rather lay on her back for most of it. Ryan politely reminds her that they're professionals, and that she paid for a full-body massage, but it's ultimately all about making her comfortable!Ryan leads her into the private room where Khloe undresses. She shyly climbs onto the massage table, then relaxes under Ryan's firm but soothing touch. As he works his way from her shoulders down to her toes, Khloe becomes less tense and more confident. In fact, she feels so good that when Ryan asks if she wants to flip over so that he can massage her back, she's game.When Khloe flips over onto her front, Ryan continues massaging her, worshipping her bubble butt. The more love he shows for her it while kneading it, the more aroused Khloe becomes. Once Ryan starts massaging close to her pussy, she can't stand the tension anymore. It's time to have some fun!Brimming with confidence, Khloe goes down on Ryan's cock, then opens herself up to him. As Ryan sinks his cock into her pussy, all worries Khloe had about her self-image fades away as she enjoys herself to the fullest. It's a good thing she decided to give into the full-body massage!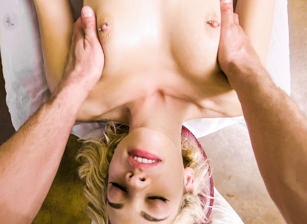 Description :
Khloe Kapri enters the door to a massage parlor and approach the reception desk where masseur Mick Blue stands waiting. She is allsmiles as she greets him, and seems flirty and extroverted but also very polite. She digs through her purse and pulls out a printedcoupon/voucher for 50% off a massage, and presents it to the masseur.Mick is very apologetic as he shows the voucher back to her and informs her that this particular promotion has ended. Khloe looksadorable as she pouts and then looks hopefully back up at the masseur - oh no! she laments, she had no idea... isn't there anythinghe can do, can he make an exception just this once? She came all this way...She is clearly trying to use her flirty charms to convince him. The masseur flirts back a bit, saying that for someone so beautiful, he'ssure he can make an exception. The young woman squeals with delight and warmly puts her hand on the masseur's arm as shethanks him for being so sweet.Mick leads her to the massage table and waits for her to undress. He pretends not to watch, but he's secretly sneaking peeks at herhot bod through a well placed mirror. She lays down on the table. Mick spreads oil on her and begins to caress her eager body. Khloeflirtatiously asks Mick to focus on her lower back and hips, since she has a LOT of tension there. Mick is happy to oblige. As he rubsher body, he works his way down to her supple ass, squeezing enthusiastically as Khloe moans. As the massage gets more intenseand his hands creep closer and closer to her pussy, Khloe can barely contain her arousal, gasping with pleasure.Mick has Khloe flip over onto her back and begins to massage the front side of her perfect body. Eventually working his way to herperky tits, he caresses her pierced nipples as Khloe writhes in ecstasy. Soon, Khloe says that he was such a gentleman for giving hera discount, she'd love to pay him back somehow. Surely there must be something in return she can give him. As she says this, herhands reach seductively towards his crotch. He doesn't stop her, and even moans with pleasure, but he does ask if she's sure. Shesays absolutely. After all, Khloe LOVES to see a nice guy get the girl for a change...
Categories :
Blonde
,
Hardcore
,
Natural Tits
,
Anal Fingering
,
Facial
,
Blowjob
,
Big Dick
,
Massage
,
POV
,
Oil
,
ass massage
,
ball play
,
hd porn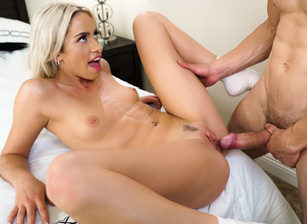 Description :
Khloe Kapri is lying on her bed, looking at her phone. Hearing a knock and inviting the visitor in, Bambino, her step-brother enters. He just wanted to see how she's settling in back home after her semester at college. Inviting him to take a seat next to her on the bed, she tells him that she's happy to be home, but she's still super stressed out from her exams. Bambino is sympathetic. He offers to give her a shoulder rub. But he's her brother, wouldn't that be totally weird? Well, step-brother, he corrects her, but she knows he always tries to watch out for her and he can see she's stressed and wants to help.As he rubs her shoulders, Khloe begins to relax a lot more, telling Bambino that his technique is amazing. She never knew he had such strong hands. Bambino takes the compliment, thanking her. Since it's getting really hot in the room, Khloe suggests that she'll take her shirt off. Bambino asks if that wouldn't feel a little strange for her. Even though they aren't actually related, it's nothing he hasn't seen before, Khloe laughs, and peels off her top.Bambino resumes massaging her. Her eyes closed, Khloe comments that Bambino has grown up so much since they last saw each other. Swallowing hard, he looks over her shoulder at her perky breasts. 'You too,' he stammers. She asks him if he has a girlfriend. He doesn't, does she have a boyfriend? No, she doesn't. In fact, she's still a virgin!He is shocked. How could someone like her be a virgin?! She's never even had a friend with benefits or anything like that? No, she answers, the opportunity hasn't really presented itself. And since she's so inexperienced, she probably wouldn't know what to do if it did. She's never even kissed a guy before. Bambino is shocked all over again. Never?! Well, he'll just have to teach her, if she wants. After a few moments of hesitation, she agrees since he's her big brother and is just watching out for her.They kiss, with Bambino guiding her through the kiss, though it gradually becomes more passionate and deep, with tongue. It's getting a little too intense and they pull back from each other, both kind of shocked, but clearly turned on. They both shake their heads at the same time. Khloe comments on how nice the kiss was and asks her step-bro how she did. He responds very positively and encouragingly. Now that she knows the basics, he tells her that maybe he should show her something else. Maybe he could touch her tits? Kissing is one thing, but that's just too weird, she says. Well, he says, he was just touching her shoulder before, isn't it the same thing, just touching a different part of her skin? Well, if he thinks it'll help help her get more experience, ok, she relents. Bambino begins to feel her tits. That feels really good, she comments.As Bambino is feeling her tits, Khloe, increasingly into it and less inhibited, asks Bambino if he could touch her, y'know... down there. Just so she would know what it feels like. It's just another piece of skin, isn't it? It's the same thing as touching her tits. And since they're not REALLY related, how bad could it be... He obliges and fingers her pussy, commenting on how tight and wet she is as she moans with pleasure. Bambino then pulls back and encourages Khloe to get on her hands and knees to teach her how to do a blowjob. Khloe, aroused from everything, doesn't hesitate. She's a quick learner and is fueled by his praise. When it finally comes time to take Bambino's cock, she's eager to learn how to ride that, too!
Categories :
Blonde
,
Hardcore
,
Natural Tits
,
Fingering
,
College
,
Petite
,
Blowjob
,
Deepthroat
,
Big Dick
,
Creampie
,
Massage
,
shaved pussy
,
hd porn
,
kissing
,
rimming
,
pussy eating