Pornstar Info
Videos with Zac Wild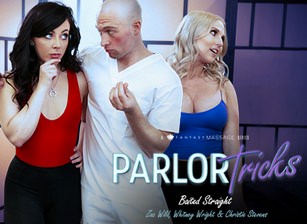 Description :
Whitney Wright and Zac Wild, two massage therapists and coworkers, are relaxing before their next appointments. When Whitney mentions that it's none other than Christie Stevens, Zac is over the moon. He has a HUGE crush on Christie and wishes he could get with her. Meanwhile, Whitney shoots him down since he KNOWS Christie is a gold-star lesbian, right? As if Christie would ever get with Zac! Whitney, a lesbian herself, hasn't even gotten with Christie!Zac suddenly has a stroke of genius. He's convinced that he can turn Christie straight with mind-blowing sex. He just needs Whitney's help... Whitney's not interested until Zac bets his paycheck. 'You're on!' she declares as they seal the deal with Zac letting her in on his plan...A short while later, Whitney leads Christie to the massage table. She takes her sweet time massaging Christie, making she she's nice and relaxed. When Christie starts to really enjoy her massage, Whitney dives in with a special touch.
Categories :
Oil
,
Kissing
,
Pussy Licking
,
Big Tits
,
FaceSitting
,
Blonde
,
Tattoo
,
Blowjob
,
Cum in Mouth
,
Deepthroat
,
Threesome
,
Hardcore
,
Fingering
,
Natural Tits
,
Massage
,
Cum Swapping
,
Foot Fetish
,
HD Porn
,
Big Dick
,
Shaved
,
Cum on Pussy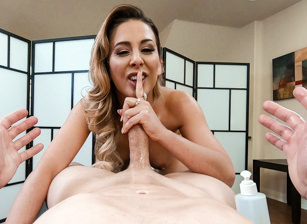 Description :
Cherie DeVille enters the massage parlor, and as she gets a look at masseur Zac Wild, there is an immediate look of recognition on her face. 'Don't I know you?' she asks. He is unsure, but as he's thinking, it comes to Cherie. That's right, he was a friend of her son's in high school!, she says. Oh yes, he recognizes her now, Zac says brightly. It took him a second to place her since he hasn't seen her son since graduation a couple of years ago, he adds. Yes, it took her a moment too, Cherie says. He's grown up a lot in the last couple of years and looks so...adult now, Cherie says flirtatiously, looking Zac up and down. Well, he's 19 so he guesses he technically IS an adult now, he says playfully. Interesting...she says softly to herself, continuing to check him out.So...he hopes it won't be too weird, getting a massage from her son's friend?, Zac says. Cherie looks at him, biting her lip. No, not weird at all, she smiles naughtily. The masseur leads her to the massage table and waits for her to undress and get on the table.As the massage progresses, Cherie is enjoying it immensely and says that she never would have guessed that Zac had such amazing hands. Zac is modest and thanks her for her compliment, jokingly adding that all those years playing video games with her son have really improved his skill with his fingers. They sure have, she says dreamily. There is a moment of silence. She bets that his hands aren't the only...part of his body that he's good with, Cherie says sensually, reaching her hand over to caress his package. Zac lets out a small sound of pleasure. Wow, he never dreamed in a million years that he would have a chance with his friend's hot mom, is she serious!?, he asks. COMPLETELY serious, Cherie says firmly as she continues to feel his package. And she's not too worried that her son will find out?, he asks. She smiles up at him as she caresses his hard cock, grinning mischievously. Well...she won't tell if HE won't...
Categories :
Oil
,
Big Tits
,
Blonde
,
Ass Rubbing
,
MILF
,
Handjob
,
Titty Fuck
,
Deepthroat
,
Hardcore
,
Masturbation
,
Fingering
,
Footjob
,
Massage
,
Ass Massage
,
Ass
,
HD Porn
,
P.O.V.
,
Petite
,
Pornstar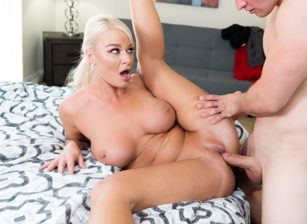 Description :
Zac Wild stands in the entranceway of his family home. He is excited, holding a couple sheets of paper in his hands. 'Hey, Mom! I got accepted into college!' he calls as he runs through the house. He finds his step-mother, London River, in his parents' master bedroom, her back to him while lifting her shirt over her head. Zac doesn't want to make an awkward moment even more awkward, so he calls to her to let her know he's there. She turns around, mostly naked but not embarrassed as she greets her step-son. He apologizes for barging in and she dismisses it, telling him that it's fine. She curiously comments about and gestures to the papers in Zac's hands. He excitedly tells her that he's been accepted to college that fall and they hug in celebration.Although they have hugged plenty of times before, Zac is flustered when her large breasts press against his chest. After a brief moment, he hugs her a little tighter with a dreamy smile, his hands rubbing her back slightly, almost sensually, though pulls back abruptly when London winces. He is both flustered and worried that he's being creepy, which isn't his intention.London winces as she pulls away from the hug, rolling her shoulders, making it obvious that she only pulled away because she's aching -- not because she disapproves of Zac's lingering hug. Zac is concerned, asking her if she's all right. London rolls her shoulders again and states that she just finished her exercise class and only got home not long ago. Zac says that he's not very good at it but can give London a massage to help her relax, and London easily agrees, saying that his dad never offers to do things like that.Zac puts aside his papers and they both sit on the bed. He begins massaging her shoulders from behind. He's a bit too rough and clumsy at first and apologizes for his inexperience, embarrassed. London assures him that he'll get the hang of it with her guidance. She gives him pointers and his technique improves. His expression is once again dreamy as his hands drift forward over London's shoulders and toward her breasts.'What are you doing?' London teasingly asks Zac, whose eyes widen as he sees just how close his hands are to London's breasts. 'Nothing!' he exclaims as he yanks his hands back, embarrassed, while London turns to face him. She tells him that whatever he's feeling is natural, reminding him that she's his step-mother so he can tell her anything.Zac admits that he feels that his father doesn't give her the attention she deserves. HE should be there giving her a massage -- not Zac. London tells him how touched she is that he worries for her like that, and even though he is nearly the spitting image of his father, he is much more sensitive and attentive. Zac is pleased, sitting a little straighter and prouder, gazing into London's eyes. He then rubs his neck, laughing sheepishly. He suggests that they continue the massage because he doesn't want to give away how much he likes London by gazing deeply into her eyes. London offers to lay down and let him try a full-body massage on her, which he accepts. He straddles her hips and massages her shoulders and back. His touches become sensual, drawing soft moans and words of encouragement from London as she enjoys herself. He even leans forward more to really get into it, which causes his hard-on to press against London. 'Are you happy to see me?' she teases as she looks over her shoulder to him.He's horrified and straightens up, his hands snapping down and covering his bulge. 'I'm sorry! Blame it on the hormones!' London laughs and teasingly raises her hips a little. He's so embarrassed and aroused that he climbs off her. London's playful expression turns to one of concern as she asks him what's on his mind. Zac admits that he's frustrated about the way his dad is never around to treat her right. He relaxes and finally admits that he has feelings for London.London gazes at him fondly, telling him that while she wishes that his father was around, too, she has Zac, which she's glad for. Their relationship is going to change, especially once he goes away to college, so she wants to not only teach him how to massage a woman but please a woman, too. Zac's mind is blown as he readily accepts the invitation since this is a dream come true!
Categories :
Oil
,
Kissing
,
Pussy Licking
,
Big Tits
,
Blonde
,
Body Massage
,
Blowjob
,
Deepthroat
,
Hardcore
,
Cum On Tits
,
Fingering
,
Massage
,
HD Porn
,
Member Fantasy
,
Stepmom
,
Family Roleplay