Pornstar Info
Videos with Jake Adams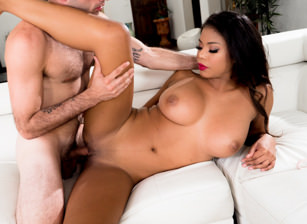 Description :
Jake Adams is relaxing at home on the couch, watching television, when there is a knock on the door. He answers the door, finding his best friend, Nia Nacci, standing there. She looks upset but tries to smile, asking if she could come in. 'Of course!' Jake insists, looking concerned as he leads her to the living room, his hand pressed lightly against the small of her back. 'What's up?'Nia sits down on the couch. She was supposed to be on a lunch date but was stood up! She waited like an idiot at the restaurant for over an hour and didn't even get a text! She must've looked so sad because a waiter eventually brought her some food on the house. She's so embarrassed about it that she buries her face into her hands. She then pulls her phone from her purse and reiterates that, nope, the jerk still hasn't sent a text to apologize or even explain himself.Jake shakes his head, saying that her date's an idiot for standing up an amazing woman like her! Any guy would be lucky to have her. Nia smiles adoringly to Jake, commenting that she wishes more guys were like HIM. She then winces and turns her attention to her high heels, taking them off and wiggling her toes with a moan. Her feet are killing her! She idly mentions taking a nice soak in a bath when she gets home.Jake looks down her legs and to her feet, then offers to give her feet a massage. Nia is thrilled with the offer, though a bit shy, too, insisting that she doesn't want to be more of a bother to him as she settles back and puts her feet in his lap. Jake massages her feet saying that, nonsense, she's never a bother to him! He's really sorry her date ended up being a bust. Nia says it's not ALL bad because now she's here with HIM. Jake is a bit flustered but continues massaging her feet as Nia closes her eyes and enjoys it, although she soon rolls her shoulders with discomfort. Jake then asks if she wants a shoulder massage, too, since she still looks pretty tense, and she easily agrees.Nia sits up and turns her back to Jake, allowing him to begin the massage. At first, Jake's hands hover over her shoulders, as if he's still a bit shy doing it, though he finds the courage and begins the massage. Nia melts beneath his strong hands, commenting on how nice they feel. She gets super into it, especially when Jake offers to put some lotion on her. She happily agrees, peeling off her shirt and bra to make sure that they don't get covered in lotion. As Jake massages her huge tits, she rolls her head to the side and moans. Soon, she asks Jake to do her lower back and she slips her panties off, lying face-down on the couch. Jake pours lotion on her plump ass, massaging it eagerly. Losing herself in the rubdown, she admits that she REALLY needed to unwind today... She hasn't gotten laid in awhile and was kinda hoping for that bit of extra fun with her date...Jake sees his chance and says, 'Well, if it's something you were really looking forward to and you're cool with it, WE could always have sex.' Nia laughs assuming he was joking, but then pauses when she sees the look on his face and asks if he's serious. When he gazes steadily back at her, she's stunned as she realizes that he's not joking. 'What? No. WHAT? NO! You're my best friend! We've known each other forever!' Jake smiles and shrugs, trying to play it cool but failing since he's not that sauve, and says, 'Yeah, exactly, who knows you better, can take care of your needs better, than your best friend?' She giggles and admits that that's true enough, though still looks uncertain a few more moments until Jake grows more serious, but still shy. He takes her hands into his and admits that he's always had a crush on her. He's always been there for her, supporting her with everything she does -- just as she does for him in return. He hates seeing all the losers she dates. He's not asking to be her boyfriend right that instant, or anything, but he's curious to see what sex with her would be like. Besides, she's already admitted to wanting to get off today, so, really, why not?Nia gazes at him, opening her mouth as though she might bring up the nature of their relationship again. 'Jake, I don't think we should... Actually, you know what? Fuck it! I deserve a bit of fun after that crappy date! In fact - we BOTH do!' she declares, throwing caution to the wind as she practically leaps at Jake for a steamy kiss, throwing her arms around him. He's surprised but happily wraps his arms around her and kisses her in return. She takes off his pants, sliding her luscious lips around his dick and sucking it hungrily. Before long, he flips Nia onto her back, licking her little pussy as she moans with pleasure and he gets ready to slip his dick inside her.Nia's date may have stood her up, but her closest friend is going to make sure that she forgets ALL about that.
Categories :
Pussy Licking
,
Big Tits
,
Brunette
,
Body Massage
,
Blowjob
,
Deepthroat
,
Hardcore
,
Fingering
,
Natural Tits
,
Ebony
,
Ball Sucking
,
Ball Licking
,
Interracial
,
Massage
,
Ass Massage
,
Ass
,
Bubble Butt
,
College
,
Cunilingus
,
HD Porn
,
Big Dick
Description :
Megan Winters comes in to the massage parlor, glistening with sweat and still wearing her ear buds. She's slightly out of breath as she approaches the reception desk, and pulls the ear buds out of her ears when masseur Jake Adams starts trying to talk to her. Sorry, she says, she just jogged all the way here. He asks if Megan is ready for her massage, and she says yes but then touches the sweat all over her arms and asks if she could take a shower first before he touches her. He says sure, there's one in the massage room, and asks her to follow him.In the massage room, Jake tells Megan that she can take a couple of minutes in the shower, and then dry herself off, put a towel over herself and lie face-down on the table. He'll come back in about five minutes to check on her. She says no problem, he can even come back in four, and gives him an innocent smile. When he shuts the door however, her innocent smile turns wicked as she peels off her clothes to reveal her perky breasts and juicy ass. After Megan showers for a few minutes, Jake knocks on the door uncertainly. He asks if he should come back in a few more minutes, but she tells him it's fine, he can come in. He enters the room and is confused to see his client still in the shower. He apologizes saying he thought she said to come in but he must have misunderstood. From behind the shower door, Megan tells him he didn't misunderstand, she wanted him to come in.With a mischievous grin, she says he should join her in the shower. He tries to shield the view from his eyes with his hand, scoffing and telling her that this is highly inappropriate. She pouts, and starts moving her hands all along her body suggestively while she talks. He's been on his feet all day, hasn't he? In this hot weather? She bets he could use a break to wash off and feel fresh. It's so nice in here, and look, it's all soapy and clean! She drips some water on her hard pink nipples. Is he sure he doesn't want to join her? Her taut body against the glass is too good for Jake to resist and he climbs into the shower.Once in the shower, Jake gives Megan a standing massage, his hands travelling sensually over her soaking wet body. She touches him as he massages her, caressing his cock as it gets nice and hard. Before long, touching isn't enough for Jake. He slides his dick into Megan's wet and waiting pussy from behind, fucking her as she leans on the shower wall. She moans loudly as he pounds her, her perfect tits pressing against the glass. Jake's already sending Megan over the edge, and her massage hasn't even BEGUN yet...
Categories :
Oil
,
Big Tits
,
Ass Rubbing
,
Tattoo
,
Shower
,
Body Massage
,
Blowjob
,
Deepthroat
,
Hardcore
,
Masturbation
,
Natural Tits
,
Teen
,
Massage
,
Bubble Butt
,
Hairy
,
HD Porn
,
Big Dick
,
Member Fantasy
,
Redhead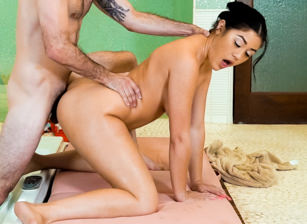 Description :
When Jake Adams walks into the massage parlor, he can't seem to find anyone to greet him. When Kendra Spade pops out from the back, she looks so hot in her silk robe. When she greets him she asks how she can be of service. Jake is at a loss for words, he's not sure what he wants but he certainly wants a massage. Perhaps something out of the ordinary? Kendra smiles as she informs him that she has something that she's pretty sure he's gonna love. When she asks him to follow her, he does as he's told. She fills up the bath and starts massaging his shoulders. You can tell he's enjoying himself as he closes his eyes and relaxes into it. She soaps up her hands and massages his chest asking him if he's satisfied. He nods as she continues to work on him. When she starts stroking his dick, he can't believe his luck...this is the best day of his life! When she gets in the tub with him, he can't imagine this massage getting any better, that is until she starts sucking his dick. She deepthroat's it, chocking on it as she slams the back of her throat. When she knows it's not going to get any harder she asks him to fuck her which he does willingly and with the utmost enthusiasm. He pulls it out and eats her pussy as he teases her before putting it back in. She then gets on top of him and rids his dick making sure it's hitting her g-spot in all the right places. When he's about to cum she makes sure he blows his load right in her mouth, after all, a good customer is a happy one!
Categories :
Kissing
,
Asian
,
Blowjob
,
Cum in Mouth
,
Deepthroat
,
Hardcore
,
Fingering
,
Natural Tits
,
Massage
,
Bath
,
HD Porn
,
Member Fantasy