Pornstar Info
Videos with Dee Williams
Description :
Dee Williams welcomes her son-in-law, Lucas Frost, into the house, although is curious where her daughter is. Lucas says she's late, like usual, but he got off early since one of his patients canceled on him. It's not really good for the patient, though, since she's due for a breast exam... Even so, he loves being a doctor, even if the days are long.Dee is happy to have such a charming humanitarian in the family. She has to admit, though, it's been a few years since she's had a breast exam and she's a little nervous. Lucas is concerned for her, saying he could perform one since they have time before dinner. While Dee is interested, wouldn't it be awkward since he's her son-in-law? Lucas is casual as he says it's a professional procedure -- he does this every day!Dee agrees and Lucas innocently suggests going to her bedroom since she needs to lay flat for the exam. Once they arrive in the bedroom, Dee fetches some massage oils that Lucas can use for the examination. After she makes herself comfortable and removes her shirt, Lucas begins the process. He is nothing but polite and professional as he massages her gorgeous breasts, although they both become more and more aroused with each passing minute. So much so that, after the examination is complete and she's found to be in sound health, Dee suddenly captures Lucas' lips in a passionate kiss.They're unable to escape their lust for one another now, caught in the heat of the moment as Dee eagerly moves on from kissing Lucas' lips to sucking his cock. It isn't long before she's taking that cock into her pussy, experiencing for herself what her daughter always gets to enjoy.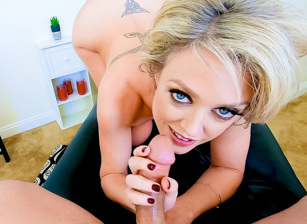 Description :
Masseur Ryan Driller greets his next customer, MILF Dee Williams. As he is shaking her hand, she looks him up and down, biting her lip approvingly. He asks her if she's ready for her massage. She responds flirtatiously that she's been waiting all week for this, and that she is definitely ready for her 'special' massage. The masseur laughs, telling her that every massage is special and he'll make sure to give her the best service possible. Oh she's sure he will, Dee says, smiling wickedly. Excellent, says the masseur. So, before they get started, are there any spots that she wants him to focus on, for example, problem areas or tense muscles? Ryan asks. Well, she would love it if he gave her entire body attention, she says, smoothing her hands up and down her dress, clearly flaunting her tight body. But there are DEFINITELY some areas that she would like him to focus on, she adds seductively. This area, in particular, could really use his...focus, she says, drawing his attention to her chest. Oh and her lower back has also been...tight, really...really...tight, she adds, turning around to flaunt her ass. The masseur politely clears his throat and tells her no problem, right this way please. The masseur leads her to the massage table and waits for her to undress and get on the table.It becomes clear that the massage is almost over when the masseur mentions that for the final part of the massage, he'll massage her temples. 'Oh, I thought that this was the kind of massage where you got a...happy ending,' Dee says, disappointed. Ryan isn't sure what kind of massage she means, but she instantly clarifies it for him by putting her hand on his crotch. Ah, that kind of massage, he says, getting it now. Unless...that's not something he's interested in, she asks, caressing his package. Oh no, he's definitely interested, Ryan says, it's just not something the massage parlour usually does. But...he's quite willing to give her a SPECIAL treatment!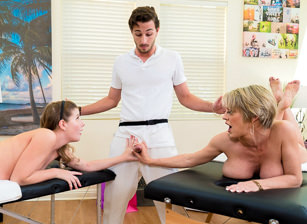 Description :
A rich step-mother, Dee Williams, and her step-daughter Vienna Rose, walk into a trendy massage parlor from the street, in chic outfits and carrying several boutique shopping bags from a day out on the town. They're greeted by a friendly and eager-to-please masseur, Lucas Frost, at the reception desk. He asks if they have an appointment and they say no. They were doing some shopping and just so happened to notice the massage parlor from across the street and Dee thought she'd treat her step-daughter and herself to a nice relaxing massage. The masseur frowns and says that unfortunately, most of the therapists are already booked solid for the day, he has one free slot now but has another appointment coming in shortly so he wouldn't have time to see them back-to-back. In other words, they would have to decide on just one of them to get the massage, or else come back another day. The step-mother and step-daughter pout, and then start discussing and eventually arguing with each other - neither one of them wants to come back another day, but also neither one of them wants to give up their spot. Throughout the discussion, they come across as a bit selfish, spoiled, and entitled. Finally, the step-mother comes up with an idea - what if they both shared the time slot and he just massaged them both at once? The masseur is skeptical, he doesn't really see how that would work, but the step-daughter LOVES the idea and together the step-mother and step-daughter sweet-talk and pressure him into saying yes. Sort of like a daughter-mom combo massage, the step-mother jokes.The masseur leads them to a private room where two massage tables are set up side-by-side. He explains that this room is usually for couples massages but of course there's usually two massage therapists when they do those. He supposes he'll have to try to divvy the massage time equally between the two of them, since there's only one of him. He instructs the mother and daughter to undress and then lie flat on the tables and get comfortable. He leaves the room, and the mother and daughter put down their shopping bags to the side and undress. They gossip about how cute the masseur is. Dee mentions that guys like him just can't help themselves around beautiful women, and she wouldn't be surprised if he makes a move on her during the massage. Vienna scoffs and says Dee's too old for him, if anything he would want someone young and gorgeous like herself. Her step-mother laughs rudely and says please, she's barely over 18, guys like women with experience who know how to satisfy them. They bicker some more as they get up on the massage tables. Vienna asks her step-mother if she remembers whether he told them to drape a towel over themselves or not. Neither remembers, so they shrug nonchalantly and say they're sure they're fine without it.Shortly after, the masseur knocks on the door and they tell him in matching flirty voices to come in. He enters and is a bit surprised to see them side-by-side with nothing covering them, and starts to tell them that it's standard for clients to cover up but stops his sentence short and decides to shrug it off. He asks who he should start with, and the pair once again start fighting for first dibs. He quickly interrupts them and says 'You know what? I'll just start on my left and we can go from there' to try to peacefully end the argument.The masseur starts massaging the client on his left, the step-mother. As he rubs, she moans exaggeratedly about how good it feels, both to try to butter him up and also to make her step-daughter jealous. After a minute or two of this, Vienna gets exasperated and insists that he's spent enough time on Dee for the moment, it's her turn now. So the masseur switches to the right-side table and begins massaging Vienna next. Similarly, she puts on a display of exaggerating how much she's enjoying the massage, but takes things a step further by talking about her body, how tight her muscles feel, how it must be from all the yoga she does, etc. etc. Oblivious to their intentions, the masseur answers politely, but is secretly a bit weirded out by all their weird behavior. After a couple of minutes of putting up with this, the step-mother can't help but groan and roll her eyes. She calls the masseur back to her side, saying she hopes he hasn't forgotten about her. From here, the mother/daughter rivalry escalates - over the course of the massage, the masseur finds himself struggling to keep them both happy as he bounces back and forth between the two women, who each increasingly demand his attention. The demands get increasingly sexual as well - asking to rub their breasts, their ass-cheeks, their inner thighs inches away from their private areas.Eventually, Lucas looks overworked and exhausted from bouncing back and forth between them, and the women notice and take pity on him, albeit in a bit of a condescending way. 'Look how tired he looks, mom, I think we accidentally wore him out,' Vienna says with a flirty tone. 'He does look exhausted, the poor thing,' her step-mother agrees, 'but he really did a great job. We should think of a way to thank him for his hard work.' They start to paw at him from either side, and he looks a bit shocked. Isn't this incredibly inappropriate? Especially since they're mother and daughter? 'Step-mother and daughter,' Dee corrects him, and fishes for a compliment saying that she's FAR too young to be her actual mother after all, which results in an eye-roll from her step-daughter. And they won't tell anyone if he won't, Dee adds. It can be their little secret. They both lean in to kiss his neck and nibble on his ear on either side, and Lucas moans with a blissful expression on his face.
Categories :
Big Tits
,
Hardcore
,
Threesome
,
Natural Tits
,
Teen
,
Milf
,
69
,
Tattoos
,
Family Roleplay
,
Facial
,
Blowjob
,
Deepthroat
,
Massage
,
Nuru Gel
,
hd porn
,
rimming
,
stepmom
,
pussy eating