Pornstar Info
Videos with Lena Paul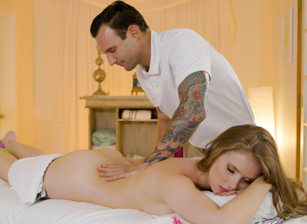 Description :
Masseur Alex Legend arrives for his shift, and a fellow masseur asks him to take their client, which Alex agrees to. When his colleague tells him the customer's name, Alex's eyes slowly widen with alarm and he swallows hard at the realization of it being the same name as his ex-girlfriend's. 'Uh...'His colleague claps him on the shoulder, thanking him while hurrying away. 'Thanks, Alex! You're a lifesaver!' the colleague calls out on their way out. 'No, wait! Come back-- aw, dammit!' Alex curses after trying to call his hurrying colleague back but failing. Alex is still left in shock as he says to himself, 'I mean, it might not even be her... Lena is a pretty common name...'A few moments later, Alex's client enters the room. His eyes widen in shock when he realizes that it IS his ex, Lena Paul. As soon as Lena recognizes Alex, she is furious, asking him what the hell he's doing here? Alex answers that he's been working here for a couple of months.Lena demands another masseur but he insists it's just him now. She's about to leave but he begs her to stay to help his colleague out. They also admit that their breakup was inevitable, which seems to soften them both a bit.Finally, Lena agrees to stay. She warily takes her clothes off and lays down on the massage table. As Alex begins massaging her, Lena's very tense, though she gradually begins relaxing as Alex specifically targets spots he knows will make her moan. They reflect on how hot their sex was as the moment builds in intensity. Finally, the tension boils over and Lena grabs Alex for a heated kiss. Alex strips off his clothes and slides his already-hard dick into Lena's pussy as she gasps. Alex and Lena are picking up right where they left off...Story inspired by an original submission by Fantasy Massage member, NightOwl61a!
Categories :
Brunette
,
Big Tits
,
Masturbation
,
Natural Tits
,
Blowjob
,
Deepthroat
,
Big Dick
,
Ass
,
Massage
,
Cum on Pussy
,
Oil
,
hd porn
,
kissing
,
pussy eating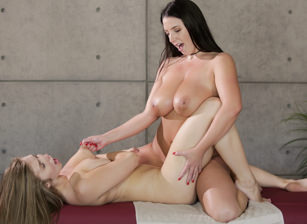 Description :
Undercover reporter Angela White is going to expose a neighborhood spa for offering sexual services. But first, she needs proof. When she shows up for her appointment with masseuse Lena Paul, Angela's cameraman is barred from entry. But Angela sticks around for the massage. When the masseuse gives her privacy to undress, she buries a hidden camera inside a plant.

The masseuse comes back in and begins to massage Angela while answering Angela's probing questions, without divulging any of the information she wants. Lena insists this is not that kind of establishment. In fact, they pair female clients with female masseuses almost all of the time. Likewise, male clients are usually paired with male masseurs. Many of her clients are women.

Just as Lena's describing how much she loves giving women massages, she senses a lot of tension in Angela's hamstrings. She massages her inner thighs but doesn't want Angela to get the wrong idea. Then she instructs her to turn over to work on her pectoral muscles, because she's so well endowed.

The curious reporter asks if her female clients ever get turned on during these breast massages. Then she undoes the sash of Lena's robe, revealing her sexy blue lingerie and full tits, and asks if her male clients ever do that. And then she asks why she would be wearing such an outfit if she wasn't offering extra services. She sits up close to Lena and kisses her.

Lena doesn't know what to do under Angela's domination, it's difficult to stay professional. Angela wants her to fuck the rules, so Lena follows her lead. She pumps a few drops of oil onto Angela's pussy then spreads it around with her tongue. She swivels around into 69 and cums in Angela's mouth before she can finish off her client. Angela eat Lena's ass then tribs her sweet pussy till they both cum together! Too bad all that footage is useless!