Pornstar Info
Videos with Alison Rey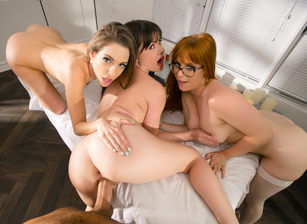 Description :
Spa owner Penny Pax explains the rules to the newly hired manager Chad White. His job is to train the interns. Flirting and touching will not be tolerated. She sends him off to meet Alison Rey, the shy intern. Alison is eager to begin her training. She's not expecting him to massage her. When asked to undress, she panics, but complies.

He respectfully looks away while Alison strips down to her panties. The massage is so relaxing she forgets she's topless when she turns over. As he massages her chest with heavy pressure, he places her hand on his crotch. She strokes it over his pants then she swallows his enormous cock. She moans when he puts his hand down her panties. They're really getting into it when he notices the time. He has a meeting with the other intern, Kimmy Granger.

Kimmy is sluttier than Alison. She frisky with Chad, uncontrollably flirty. She wants to show him the extra services she can offer clients. She manages to sneak a peek inside his pants. Chad's about to get a sloshy blow job from Kimmy when their boss Penny walks in. Luckily, she doesn't catch them. Kimmy sucks his dick till he cums in her face. His spunk gets all over her hair.

While waiting for Kimmy to clean up, Penny tells Chad she knows what he's been up to with Kimmy and Alison. She wants the same treatment. He watches the redhead sexily undress, except for her glasses. She sucks his cock and fucks it with her tits. Then she calls in the interns. Alison and Kimmy join Penny in blowing Chad.

Flanked by Penny and Alison, Kimmy lowers her pussy onto Chad's cock and fucks it till she cums. Next, he fucks Penny on the massage table while the interns suck her big boss tits and diddle her clit till she cums. He fucks Kimmy balls deep from behind and makes her cum again. Then he stuffs Alison's wet pussy and makes her cum. He goes back and forth between the horny cum guzzlers, fucking their holes till he cums in their faces.
Categories :
Big Tits
,
Brunette
,
Blowjob
,
Facial
,
Deepthroat
,
Hardcore
,
Fingering
,
Natural Tits
,
Ball Sucking
,
Massage
,
Ass Massage
,
Group Sex
,
HD Porn
,
Big Dick
,
Member Fantasy
,
P.O.V.
,
Pantyhose
,
Redhead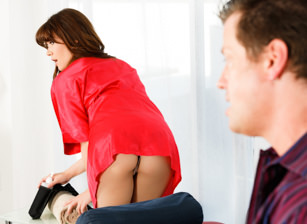 Description :
When Eric shows up for the massage gifted to him by his girlfriend for their one month anniversary, he figures out that his sexy massage therapist was a former student of his. She had taken his history class in high school, and apparently she had huge crush on him. She'd always fantasized about what sucking his cock would be like. But she was just a girl back then and it would have been totally inappropriate - and illegal. But now they were both adults. So when he gets a stiff cock because her robe accidentally pops open, they can deal with the awkward situation like two adults. She offers him a cock massage to release that tension. Really she can't wait to live out her fantasy of fucking her teacher's cock and she does all kinds of things that would have gotten her detention in high school. Even though this isn't 'that kind' of massage parlor. How else does a bad bad girl become the teacher's pet?
Categories :
Oil
,
Close Up
,
Brunette
,
Body Massage
,
Handjob
,
Hardcore
,
Natural Tits
,
Massage
,
College
,
HD Porn
,
Member Fantasy
,
Shaved
,
Cum on Pussy