Pornstar Info
Videos with Codey Steele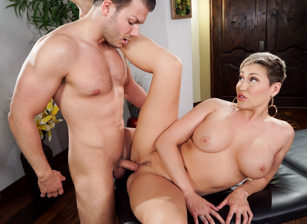 Description :
Ryan Keely, the owner of a massage parlor, drops by the parlor to see how intern Codey Steele's first week on the job is going. He says it's going great, but has a few questions about how a typical massage works. Ryan is happy to help, saying that she'll guide him through massaging her. She leads him into a massage room. In the massage room, Ryan easily strips down in front of him, giving him a great view of her heavenly body. He's flustered, trying to look away from her to give her privacy, although he sneaks looks back at her.She then saunters over to the massage table and lays down on her front. She tells him that there's tension in her shoulders. He takes the cue and begins massaging her. He tries to remain professional as she moans, complimenting him on his strong hands. She's clearly enjoying herself.He works his way down her body to her lower back, Ryan's moans getting a little louder still. His hands hover just above her ass. The hesitation is just long enough for Ryan to notice as she looks up again and asks what's stopping him? Codey says he's not sure about massaging her... posterior. Ryan tells him that this is supposed to be a FULL-BODY massage. Is he always this shy? He admits that he is. Ryan tells him he'll need to get over it if he hopes to find employment as a masseur. Out of fear of disobeying his boss, Codey instantly claps his hands over Ryan's butt. She gasps. He resumes the massage, paying lots of attention to her butt. Ryan loves the attention and moans loudly. But soon, things start to get a little intense for Codey and he asks Ryan to roll over so that he can massage her front.She rolls over and Codey begins massaging Ryan's shoulders. His eyes keep falling down to her amazing tits. As he begins to massage her breasts, Codey really starts getting into the massage, and Ryan is clearly aroused by this point. When Codey's hand approaches her pussy, instead of hesitating, he boldly palms his boss' pussy. She moans her approval, saying that NOW he gets it! But Codey is just getting started on Ryan, and this intern is determined to do WHATEVER it takes to impress his boss...
Categories :
Oil
,
Pussy Licking
,
Big Tits
,
MILF
,
Body Massage
,
Blowjob
,
Deepthroat
,
Cum On Tits
,
Fingering
,
Massage
,
Cunilingus
,
HD Porn
,
Big Dick
,
Member Fantasy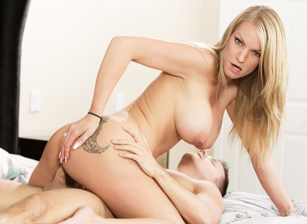 Description :
Codey Steele gets home from school after a long hard day. When his mother asks him what's wrong, he tells her that he just has a headache. Picking up a bottle of pills from the table, he pops 2 before his mother can stop him. Rachael Cavalli laughs seeing that he just took some of his dad's dick pills. When he realizes he's gonna be hard for hours his mom suggests he goes to rest.

He agrees and goes upstairs to lie down. When she goes upstairs to check up on him, he's hard as a rock. When he notices she's on the bed with him, he gets weirded out. She tells him to roll over so she can give him a massage and help him relax. A little uncomfortable, he complies. She sits on him and starts working his back. Despite feeling awkward, he admits that it's helping a little. She tells him to turn over, grabs his dick and starts massaging it. He asks her what the hell she's doing but she dismisses him, saying that he should just relax and enjoy it.

She pulls out his cock and starts sucking it. He protests at first but then he realizes how good it feels. When she starts taking off her clothes to bang that boner away, he tries to stop her but he has no chance. She tells him to shut up and sits on his dick. Putting it inside her, she starts riding him. She fucks him reverse cowgirl and blows him again. Then its time to fuck her doggy style. Cumming, he blows his load on her stomach and pussy. Looks like Mommy's got the cure for everything.
Categories :
Big Tits
,
Blonde
,
MILF
,
Body Massage
,
Deepthroat
,
Massage
,
Ass
,
Bubble Butt
,
HD Porn
,
Member Fantasy
,
Stepmom
,
Family Roleplay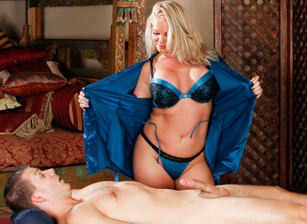 Description :
Nerdy Codey Steele goes to Maya Divine's spa on the recommendation of a good friend. He's never had a massage before but since his shoulder's been acting up, maybe a massage will help. The sexy MILF masseuse invites him to undress and get onto the table. As she rubs the oil into his skin, massaging his muscles, she senses he's holding some tension. He's just slightly uncomfortable because it's his first time. Maya Divine's ears perk up. She begins to probe into his romantic life, because she suspects he's still a virgin. When she asks Codey if he knows lots of girls, he brags that he's done lots of sex, and she laughs because she's caught him in a lie. Maya gently suggests she might be able to help him advance in that area. Her work is set up for that kind of personal growth and development. She puts his erect dick in her mouth. When he asks her if she's sure it's okay, she assures him it's what girls do. Now completely disrobed, Maya Divine's huge boobs are exposed to give him something to stare at while she smokes his sausage. He accepts her offer to see what's under her panties, and he can't resist reaching to touch her ass when she bends over to show him. They trade places on the table. She lies down and spreads her legs to show him her shaved pussy. She tells him to lick and within moments he's makes her extremely wet pussy cum. She guides his virgin dick into her tunnel of love and moans with every thrust. But he keeps fucking her, even though it's apparent he's sweating bullets over the load he's trying not to blow. When he's too close to the edge for comfort she pulls him out and jerks his cum all over her pussy! In the nick of time!
Categories :
Kissing
,
Pussy Licking
,
Big Tits
,
Blonde
,
MILF
,
Body Massage
,
Blowjob
,
Massage
,
Cunilingus
,
HD Porn
,
Cum on Pussy