Pornstar Info
Videos with Nathan Bronson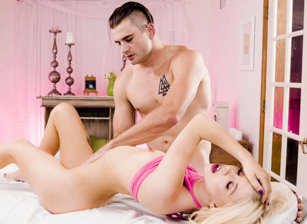 Description :
Nathan Bronson is doing his best friend a solid by picking up some of his belongings from his ex-girlfriend's house. Since he's given a spare key, Nathan lets himself in and collects some things, including a box of sentimental items. He's intrigued when he sees a coupon for a sexy massage in the box, though he doesn't get too much time to dwell on it before Kenzie Reeves, the ex, confronts him.Nathan is not too concerned and Kenzie seems more annoyed than anything else. She knows Nathan and allows him to continue gathering her ex's stuff. However, now that Nathan sees an opening, he shamelessly tries to pick her up. Kenzie is appalled, since Nathan is her ex's best friend, but is oddly attracted to him as well.Sensing that he is close to sealing the deal, he produces the sexy massage coupon that he swiped from his bro's box. Although Kenzie is exasperated, Nathan playfully remarks that he'll get out of her hair for good IF she gives him a nice massage. Even as they banter back and forth over everything, there is an unspoken attraction between them. Nathan knows Kenzie likes the bad boy ploy.Kenzie rolls her eyes and takes Nathan to her home massage table. Nathan is thrilled as Kenzie massages him, although he wants HER to have fun, too! She is pleasantly surprised when he switches things up and massages her, too. When Nathan rubs and fingers her pussy, she starts to fall for Nathan in a way she'd never imagined. When he produces another coupon he swiped for a happy ending, Kenzie is ready!Once Nathan lays on his back, Kenzie straddles him, eagerly taking his cock into her pussy. As she's taken on a wild ride, all thoughts of her ex are wiped from her mind. Maybe something good came out of the breakup after all!
Categories :
Blonde
,
Hardcore
,
Masturbation
,
Natural Tits
,
Fingering
,
Tattoos
,
Petite
,
Blowjob
,
Deepthroat
,
Big Dick
,
Ass
,
Massage
,
Cum On Tits
,
Foot Fetish
,
Oil
,
hd porn
,
rimming
,
pussy eating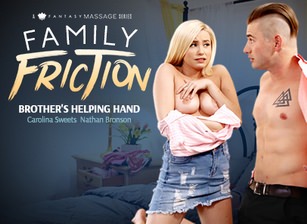 Description :
Carolina Sweets arrives home from college to spend time with the family, smiling as the familiar exterior brings her comfort. Yet, the inside of the house isn't as warm and inviting as she remembers it being. In fact, her step-brother, Nathan Bronson, admits that things have been a bit rough since Carolina and her step-sister, Kenna, left for college. Their parents, Dee and Eric, have been having marital problems... Ever since Dee started a new massage business, there's been tension in the household...Carolina is concerned, but when she tries to press Nathan for more details, he shakes it off. He doesn't want to burden her with these things while she's home on a break. Instead, he insists that Carolina looks stiff from the trip and offers to give her a friendly massage. Since massages are commonplace in the household because of Dee's work, Carolina easily accepts.Although Nathan is expecting SOME tension, he is surprised with just HOW tense Carolina is as he massages her. With some coaxing, Carolina shyly admits that a lot of the stress comes from having not been with a guy yet. She's just been so busy with school and work that there's no time! How does she even please a guy, anyway??Although Nathan is startled, he cares for Carolina. With her permission, he tries to help her out by walking her through what to do when she takes a guy home. However, it's painfully clear that Carolina really has no idea what to do! So, being the good big brother that he is, he offers a more hands-on lesson...Carolina first learns how to give a proper blowjob by going down on Nathan, closing her mouth tightly around his cock. The heat between them builds and it isn't long before Nathan plunges his slicked cock inside her pussy. Although Carolina happily loses herself in the moment, what will happen when it really sinks in that she lost her virginity to her step-brother??
Categories :
Blonde
,
Big Tits
,
Hardcore
,
Fingering
,
College
,
Tattoos
,
Family Roleplay
,
Stepsister
,
Blowjob
,
Deepthroat
,
Big Dick
,
Massage
,
Foot Fetish
,
Bubble Butt
,
shaved pussy
,
hd porn
,
pussy eating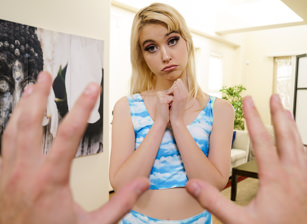 Description :
Chloe Cherry visits her boyfriend, Nathan Bronson, at the massage parlor where he works as a masseur. He's surprised to see her and even more surprised by how flirty she is. When she starts begging him for a massage, he's helpless to resist her charm. Well, since no one's around and it's a slow day at work, why not?Once they're in the private room, Chloe strips down naked and climbs onto the massage table. Nathan gets hotter by the second as he rubs oil all over her sexy body. He sensually works her from head to toe, making sure that nothing is left untouched. Chloe becomes hot and bothered by his touch and wants more. It sure would be nice to have a quickie right about now, wouldn't it? Although he tries to resist, it's not long before he gives in. Who could ever resist such an erotic invitation from their gorgeous girlfriend?Chloe eagerly goes down on Nathan, getting his cock ready for her. Then she lays back against the massage table and spreads her legs wide, letting Nathan take over. Once he slides his dick into her pussy, Chloe gets exactly what she's been wanting all along!
Categories :
Blonde
,
Hardcore
,
Natural Tits
,
Teen
,
Petite
,
Hairy
,
Blowjob
,
Ass
,
Massage
,
POV
,
Foot Fetish
,
Cum on Pussy
,
Oil
,
ass massage
,
hd porn