Pornstar Info
Videos with Sarah Vandella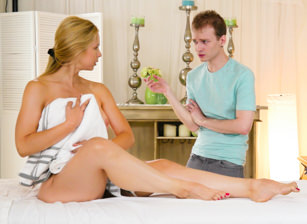 Description :
Alex Jett is waiting for his masseuse when another client, Sarah Vandella, walks by. Alex is instantly struck by cupid's arrow, and he's gobsmacked as Sarah greets her regular masseur. Even after Sarah leaves with her masseur, Alex gazes longingly after her...When Alex sees the masseur exit the room moments later, he seizes the opportunity to see Sarah again. He sneaks into the room and marvels over Sarah's beautiful, naked form as she rests on the massage table with her eyes closed. When the masseur returns to the room, Alex dives under the table to avoid being caught. It looks like things are about to get really fun!Each time the masseur leaves the room, Alex takes his chance to swoop in and run his hands all over Sarah's body. Since Sarah has her eyes closed the whole time to help live in the moment, she doesn't notice the switch. However, she DOES think that her usual masseur is a lot more handsy than normal -- not that she's complaining! She revels in the pleasure as her breasts are nicely kneaded but it isn't until her pussy starts getting attention that Sarah is really lost in the moment.Finally, Alex's luck runs out and Sarah opens her eyes and catches him in the act. Although she's furious at first, she begrudgingly admits that Alex is pretty cute... AND his hands did great work. Well, not with the actual massage, but with everything else. To make up for his tomfoolery, she demands that Alex finishes what he started, which he happily agrees to!After letting Alex suck on her breasts for a few moments as a taste, Sarah soon sinks down to her knees to suck his cock. When he's good and slick, she climbs onto the massage table and spreads her legs, inviting him inside. Once Alex sinks inside her pussy, she has to admit that his cock does great work, too!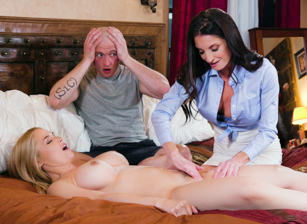 Description :
Zac Wild sneaks in through the front door of his home only to be caught by his step-mother, Sarah Vandella, and teacher, Silvia Saige. The women are NOT pleased that he's been skipping his Health & Wellness class lately. Zac argues that he doesn't see the point of it, though Sarah reminds him that if he doesn't pass this class, he won't graduate!Fortunately, Silvia is kind enough to give Zac a make up lesson in professional massage. Sarah is intrigued and engaged in the conversation, offering her body for the lesson! Although Zac is unsure about all of this, he has to go along with it or risk staying behind another year in high school.The trio soon move to a bed and Silvia begins massaging Sarah, giving Zac tips while pressing his hands into Sarah's shoulders. While Zac is uncomfortable, Sarah isn't, and it isn't long before she's topless in front of him as if it were the most natural thing in the world.Gradually, Zac is less uncomfortable and more aroused, easily getting distracted by his hot step-mom. When Sarah is soon completely naked, he's stunned as Silvia massages Sarah's pussy and encourages him to do the same. It's an excellent form of relaxation! By now, Zac is onboard as he takes over, finding himself plunging his cock deep inside both Sarah AND Silvia. The threesome is fiery as the women teach him a lesson he'll never forget!
Categories :
Blonde
,
Brunette
,
Big Tits
,
Threesome
,
Milf
,
Family Roleplay
,
Blowjob
,
Deepthroat
,
Massage
,
stepmom
,
pussy eating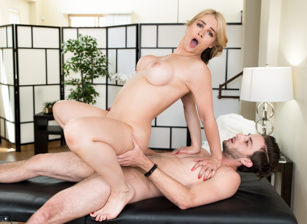 Description :
Sarah Vandella comes in for her regular massage appointment. She is friendly enough to her masseur, Lucas Frost, despite being on the phone as he greets her. She is clearly in the midst of discussing important business with someone on the other line. As he leads her into the private room, she finally closes out the call and hangs up. She apologizes stating that it's just one of those days. Hey asks her to undress and he leaves the room stating he'll be back once she's ready. Once fully undressed, she calls him back in - only just as Lucas re-enters, her phone rings again. What now! She assumes it's business but when she grabs her phone, she sees the caller display is from her needy husband. She rolls her eyes, answers, and gestures for Lucas to go ahead and get started. Meanwhile, the client is chewing out her husband on the phone - what does he want this time? Doesn't he know not to call during her massage time? Finally, she hangs up in frustration. Sarah complains that her needy husband has been acting so co-dependent ever since her promotion. He calls several times a day, always wanting to know what she's doing, when will she be home, wants to talk her ear off about his day. Just once she wishes she could be with a man who she didn't feel like she was babysitting. Sure enough, the husband calls again. As she bickers with her husband on the phone, Lucas decides to get a bit cheeky and move his hands to her private areas. She gasps involuntarily and turns to look at him in shock. He winks and continues his massage. Lucas starts to pleasure his client, and amidst her gasps and moans she finds herself having to lie to her husband about the sounds, her moans progressing to full-blown orgasmic screams before she eventually makes up a lie to get off the line and gets to fully enjoy the experience.
Categories :
Blonde
,
Big Tits
,
Milf
,
Blowjob
,
Deepthroat
,
Big Dick
,
Ass
,
Massage
,
Cum On Tits
,
rimming
,
pussy eating